It appears as if Panini has inserted some Super Short Print Variations of players into their 2012 Donruss Elite Extra Edition release. This Albert Almora was posted on the web a few hours ago, showing both variations. The SSP varaition is the one on the right with white gloves.
Find more 2012 Donruss Elite Albert Almora items on eBay.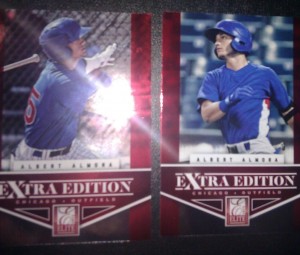 We will be updating this post with any more variations that we find in the next few days.
Find more 2012 Donruss Elite items on eBay.