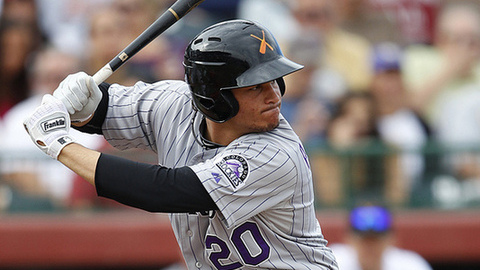 #27 Nolan Arenado 3B Colorado Rockies
Arenado was drafted by the Colorado Rockies in the second round of the 2009 Major League Baseball Draft out of El Toro High School in Lake Forest, California. He ranked number two among Rockies prospects by MLB.com entering the 2013 season.
Search for Nolan Arenado Autograph Cards and Memorabilia on eBay.
In 2012, Arenado batted .285 for AA Tulsa with 36 doubles and 12 homers. In 2011, Arenado led all Minor Leaguers with 122 RBIs, setting a record for Rockies farmhands.
Look for Arenado to be called up to Colorado sometime during the 2013 season.
Top 5 Nolan Arenado Cards
1. 2010 Bowman Chrome Prospect Auto
2. 2009 Donruss Elite Extra Edition Auto
3. 2012 Bowman Platinum Patch Auto
4. 2010 Bowman Chrome Prospect
5. 2011 Topps Debut