On the heels of the 2010 NFL season, Topps is set to release their first football product for the year. Designed much like it's baseball counterpart, the 2010 Topps Football product will be sharing much more the design characteristics.
The Topps Million Card Giveaway has been such a success, that Topps has also included the Gridiron Giveaway in their products this year. Packs will randomly contains a code card (1 per pack in Jumbo, 1:6 in Hobby) that can be redeemed online for original vintage Topps Football cards and other prizes including signed memorabilia from the fabled Topps archives.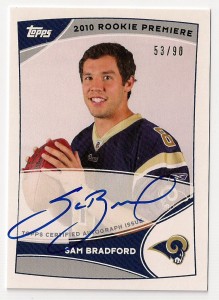 With 1 autograph or relic card per Hobby box, and 2 autographed and 1 relic card per Jumbo box, consumers have some outstanding odds at finding some great cards packed away in their boxes. The most sought after of these each year is the Rookie Premiere Autographs. The Rookie Premiere Autographs appear in single, dual, and quad autographs. This year Topps has introduced on-card serial numbers, in hopes of alleviating the counterfeit issues that have plagued the product in the past. Several have already shown up on eBay for Sam Bradford, Jahvid Best, Colt McCoy, Jimmy Clausen, and many others.
Once we receive the entire Rookie Premiere Auto checklist, it will be posted on the web site.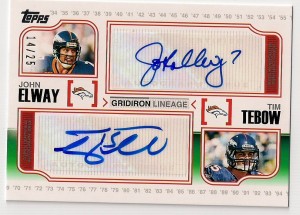 Much like the hype surrounding Stephen Strasburg in baseball, football has their own golden child for 2010. Tim Tebow has been one of those publicized players throughout most of his collegiate career and that has not changed since being drafted. Tebow appears to have SP card as well as a few autographed cards available in the set. Tebow is also featured on a dual autograph with former Bronco great John Elway.
Once we receive the entire SP checklist, it will be posted on the web site.
An exclusive 2010 Topps football break will be posted later this week.